Your Intuitive Eating Hunger Scale

By Jennifer Smith, Natural Medicine Practitioner and Certified in Holistic Nutrition
*This page may contain affiliate links. Click here to read my affiliate policy.
How to Figure Out Your Own Hunger Scale

The hunger scale is referred to often in the official Intuitive Eating book, written by Evelyn Tribole and Elyse Resch. They have a scale between 1 and 10, where you figure out how hungry or full you are, in order to start listening to your body's cues when it is time to eat, and when you should stop eating. 

But this is just a guide – you still have to figure out your own body and your own hunger and fullness cues. Here are some tips for understanding and using your own hunger and fullness scale.
The Hunger and Fullness Scale

First of all, there is a hunger and fullness scale that was created by the authors of the Intuitive Eating book. The scale starts at 1 where you are ravenously hungry, and goes to 10 where you are uncomfortably full, to the feeling of being sick.
You can use this as a resource to decide if you are a 4 (feel like your stomach is slightly empty, but not starving yet), or an 8 (a little bit too full, starting to feel uncomfortable). Use it as a guide, but add notes so that you understand your own body's cues.
Below is an example to help guide you in how to relate to the numbers on the hunger scale. Aim to keep yourself between a 3 and a 7 through-out the day, and you will more easily avoid binge eating behaviors.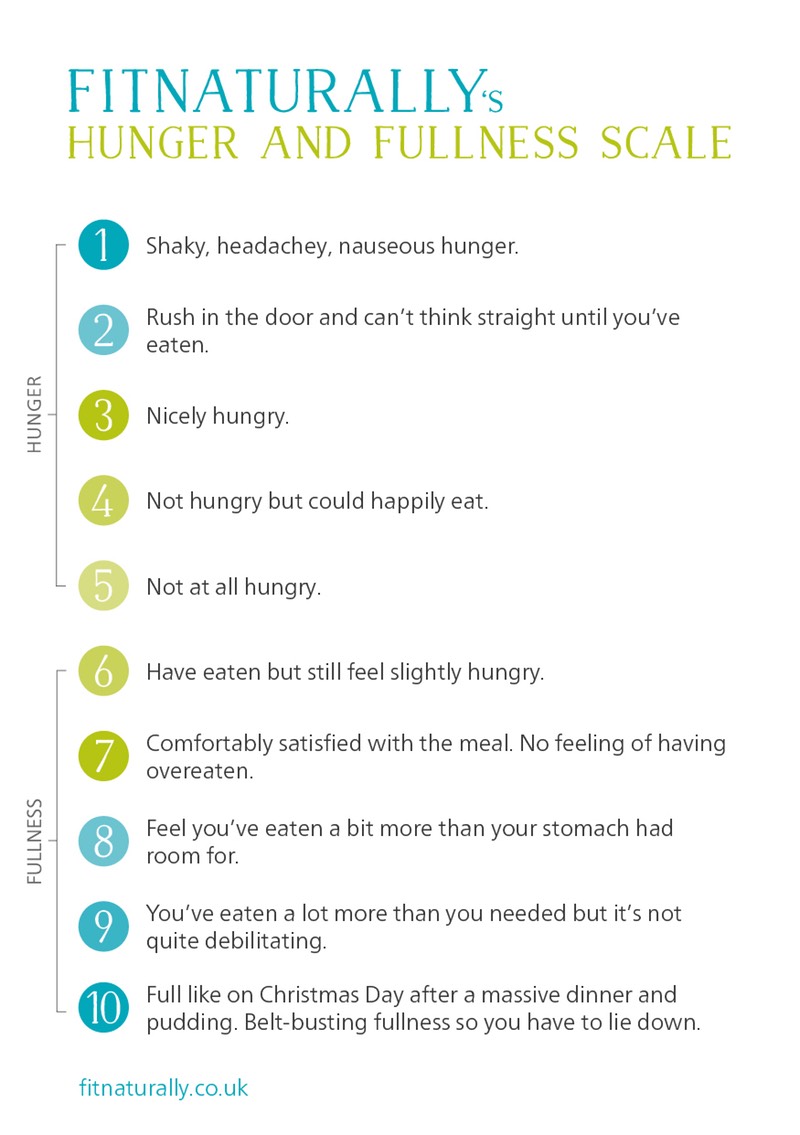 Hunger and Fullness Scale from FitNaturally.co.uk.
Assigning Your Own Hunger Feelings to the Scale

Write down a scale from 1-10, remembering that 1 is the hungriest you could be, and 10 is the fullest you could be. Then assign your own feelings to each part of the hunger scale. You can use the scale in the Intuitive Eating as a guide, though many people have also put together what their own scale is.

You want to personalize it to what you feel, making notes about where you think you are on the scale when you experience things like fatigue, growling stomach, burning sensation in your stomach, dizziness, or increased salivation. 
Learning as You Go

Don't forget that this is not a linear process. Be patient with yourself as your body changes, and you start listening to the signals it is giving you. Intuitive eating and learning what your hunger cues are is going to take time and resilience. Don't get frustrated and just go back to dieting. It's hard because you have been conditioned to ignore whether you feel hungry or full, and instead go by arbitrary numbers. 
Keeping a Food Journal

You do want to be careful with writing down what you eat, but for many people, it can be useful when it comes to how you feel during and after a meal. Do NOT write down any macros or calories, or even portion sizes if you don't feel it is necessary. What you want to do is write down how hungry you felt before a meal, what you ate, and how you felt after the meal. Did you stop when you were satiated, or were you a little too full, and just kept eating? This is something to keep record of and notice the changes over time. 
If you'd like some writing prompts to get you started, click here and enter your email for our free Intuitive Eating workbook. 
---
About Practitioner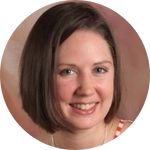 Jennifer Smith, NMP, CHN, FBCC , BHC

Jennifer Smith is a Natural Medicine Practitioner, Certified in Holistic Nutrition, Faith-Based Clinical Counselor and Biblical Health Coach. She has completed advanced certificates in Functional Nutrition, Functional Medicine, Natural Health Consultant diploma, Biblical Natural Medicine and Biblical Eating and Clinical Nutrition.
---
Do you need a Natural Medicine Practitioner in Naples FL, to be your partner in health?
What if you had a blueprint that explained how you could improve your health with simple tests you could do yourself at home?

When it comes to medical care these days, I'll just come out and say it. It stinks!
Unfortunately doctors do not have solutions for chronic conditions. They are great with emergency services and ok with acute care, though this can be improved too.
But what about all the rest of the people who are suffering with chronic issues? Doctors only know how to recommend pills or surgery and then these just lead to compound conditions that they recommend, more pills and surgery for.
For crying out loud, let's get to the bottom of these chronic issues rather than putting band-aids on them and telling people to in their heads! Are you with me?
If you want to learn how to improve your health by learning to do simple cost effective self-tests at home, then my new 12 week Bio-Individuality Coaching™ Program might be just what you're looking for.
Alternatively, if you are looking for a direct primary care natural medicine practitioner to help educate you on how to manage your health, order labs, provide professional quality supplement recommendations and partner with you in making lifestyle changes, Fx Remedies Virtual Care will be a good fit.  
---
Let's Be Friends